Antirrhinum Majus
This year round cutflower is available in numerous vibrant colors. We have the best species for you. We can deliver between week 26 and 44.
Since 1961 Globe Plant has been an innovative family company dedicated to the sustainability of delivering top quality young plants, grown from seed. Your wishes combined with our knowledge and experience will guarantee a perfect start for your cultivated plants.
Your Antirrhinum will be delivered in a 40 by 60 cm tray.
600 plugs a tray
Pinched out plugs
Illuminated or not
Plant-age or height
The species we have available at the moment are: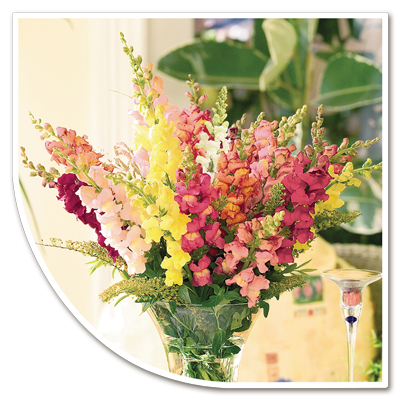 Avignon Dark Red
Avignon Magenta
Avignon Pink
Avignon Rose
Avignon White Improved
Cannes Orange
Cannes Rose
Legend Yellow
Maryland Lavender
Monaco Red
Orleans Red
Orleans Yellow
Potomac Early White
Potomac Pink
Summer Symphony White
Extensive cultivation information is available via your accountmanager. Together we make a cultivation plan. Choices can be made by season and experience.
…grown with care!
We use a minimum of crop-protection, to keep the young plants as clean as possible. To realize this our greenhouse is provided with insect-mesh and we use the newest technologies for climate control, to optimize the growing conditions.
Our employees work with passion to provide you the perfect young plant. What distinguishes us is our standard of sustainable and hygienic cultivation. All of our plants are grown with the use of geothermal energy under the highest of hygiene protocols. (More information about geothermal energy you will find at: www.geo-well.nl) Our company is also Global Gap GRASP and mps-A certified.
Globe Plant is your partner in growing Antirrhinum… We are there for you!